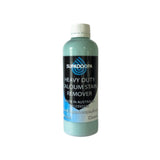 Hard Water Stain Remover
Guaranteed safe checkout





⭐⭐⭐⭐LIMITED TIME OFFER⭐⭐⭐⭐
⭐ALL 600ML AND 1L ORDERS WILL RECEIVE A FREE PUMICE STONE VALUED AT $12.99⭐
Discover the power of SUPADOOPA, a highly effective cleaning solution formulated with an acidic blend and a fine abrasive for tackling mineral deposits and soap scum on various surfaces. Our innovative formula harnesses the acidic properties to break down and dissolve these stubborn residues, making them a breeze to wipe away. What sets SUPADOOPA apart is the inclusion of a very fine abrasive that delicately lifts and dislodges the buildup without causing any surface damage or scratching.

This unique synergy of acid and abrasive ensures a deep and thorough cleaning process, effectively penetrating stubborn deposits and leaving surfaces gleaming and immaculate. With SUPADOOPA, you can achieve outstanding results with minimal effort, effortlessly restoring the original allure of your surfaces while reducing the need for strenuous scrubbing or harsh chemicals.
Please note that while SUPADOOPA works wonders on most surfaces, there are instances where glass restoration may not be achievable. Extended exposure to harsh conditions or neglect can lead to irreversible etching, making it difficult to fully restore the glass to its original condition
If, for any reason, you find yourself dissatisfied with SUPADOOPA, we will extend a full 100% refund to you.

*For a refund we require you send back the part of the product you didn't use within three weeks of getting it. We'll give you a refund that matches what you send back. So if you return half of the bottle, you'll get half your money back.
Let Ashley show you how to use our highly effective hard water stain remover on her toilet!
Best Stain Remover
Its a very effective stain remover. Chemical present in it removes all the stain very effortlessly.
Effective Hard Water Stain Remover!
I recently tried the Hard Water Stain Remover, and I'm genuinely impressed with the results. The product lived up to its promise of tackling stubborn stains left by hard water.
The application was straightforward, and after a short wait, the stains were noticeably diminished. What I appreciated most was that it didn't require excessive scrubbing – a definite time-saver.
My surfaces now look brand new, and the remover left no residue or damage. It's a reliable solution for dealing with hard water stains, and I highly recommend it for anyone facing similar issues. A must-have for a sparkling clean home!
Best Hard Water Stain Remover
This is the best Hard Water Stain Remover I have used so far. I would like to suggest it to whoever looking for such products.
The Best Cleaner.
I've experimented with various cleaning solutions, but SUPADOOPA stands out. It works like a charm on mineral deposits and soap scum, making my bathroom shine like never before.
Very helpful products
Very great experience. I specifically appreciate their services and products. Extremely nice. Their delivery are so fast. Customer support also well.